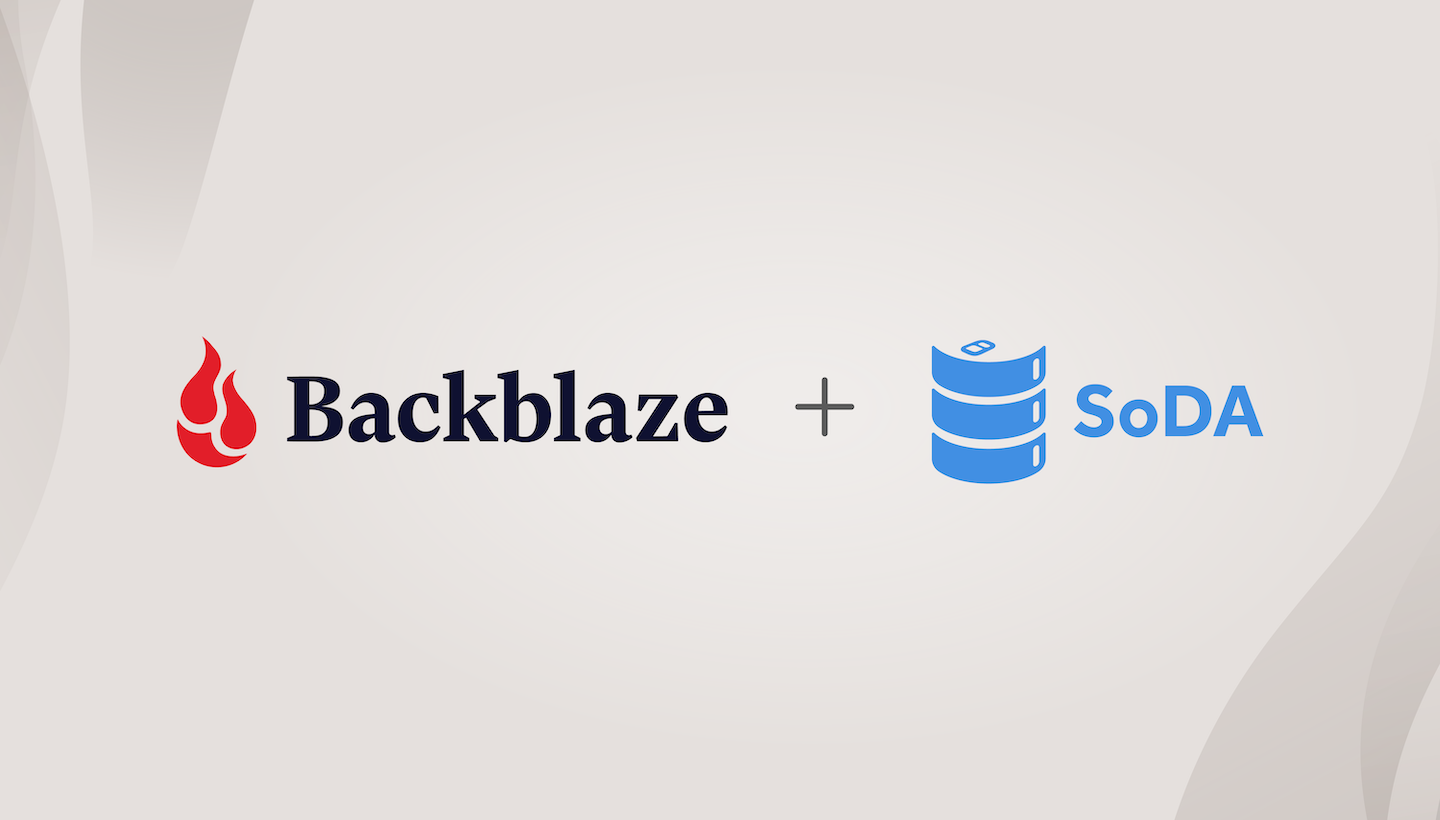 Editor's Note: SoDA and Backblaze will be at NAB 2022 and would love to tell you more about our joint solution—offering data analysis and movement, FREE during initial migration—at NAB.
Moving all your stuff is one of the most paralyzing projects imaginable. Which is why professional movers are amazing: one tackles the dishes, a couple folks hit the mattresses and closets. And there's one guy (probably the rookie) who gets assigned to the junk drawers and odd gadgets. Suddenly, your old house is empty and your life is safe and orderly in boxes moving across the country.
Now imagine moving your businesses' most valuable data across the country or the world—whether it's the organization, the security, the budgeting, or all of the above and then some—it can be absolutely paralyzing, even when your current data storage approach is holding you back and you know you need to make a change.
This is where SoDA comes in.
Essentially your professional movers in the cloud, the SoDA team analyzes your cloud or on-prem infrastructure and then orchestrates the movement, replication, or syncing of data to wherever you want it to go—limiting any downtime in the process and ensuring your data is secure in flight and structured exactly as you need it in its new home. If deciding where to send data is an issue, they'll use the analysis of your existing setup to scope the best solution by value for your business.
The Backblaze and SoDA Partnership leverages SoDA's data movement services to unlock Backblaze B2 Cloud Storage's value for more businesses. The partnership offers the following benefits:
A cost analysis of your existing storage infrastructure.
A "dry run" feature that compares existing storage costs to new storage costs and any transfer costs so you "know before you go."
The ability to define policies for how the data should move and where.
Flexibility to move, copy, sync, or archive data to Backblaze B2.
Migration and management via the Backblaze S3 Compatible API—easily migrate data, and then develop and manage both on-prem and cloud data via the API going forward.
Why Should You Try Backblaze and SoDA?
First: Backblaze will pay for SoDA's services for any customer who agrees to migrate 10TB or more and commit to maintaining at least 10TB in Backblaze B2 for a minimum of one year.*
People don't believe this when we tell them, but we'll say it again: You won't receive an invoice for your initial data migration, ever.
If that's not reason enough to run a proof of concept, here's more to think about:
Moving a couple of files to the cloud is easy peasy. But what happens if you have billions of files structured in multiple folders across multiple storage locations? You could use legacy tools or command line tools, but all of the scripting and resource management for the data in flight will be on you. You're smart enough to do it, but if someone else is willing to pay the metaphorical movers, why deal with the hassle?
With SoDA, you do not have to worry about any of it. You define your source locations, define your destination Backblaze B2 bucket and start a transfer. SoDA takes care of the rest. That is truly easy peasy.
An Example of the Backblaze and SoDA Value Proposition
One customer we recently worked with was managing data in their own data center and having issues with reliability and SLAs for current customers. They needed availability at 99.999% as well as cost-effectiveness for future scaling. They identified Backblaze B2 as a provider that checked both boxes and Backblaze recommended SoDA for the move. The customer migrated 1PB of data (over a billion files) into B2 Cloud Storage. Other than making the decision and pointing where the data should go, the customer didn't have to lift a finger.
Try It Today
If you're not convinced yet, the SoDA and Backblaze teams are ready to make your life easier at any time. You can schedule a meeting here. Or you can check out the Quickstart guide to explore the solution today.
*Conditions may apply.