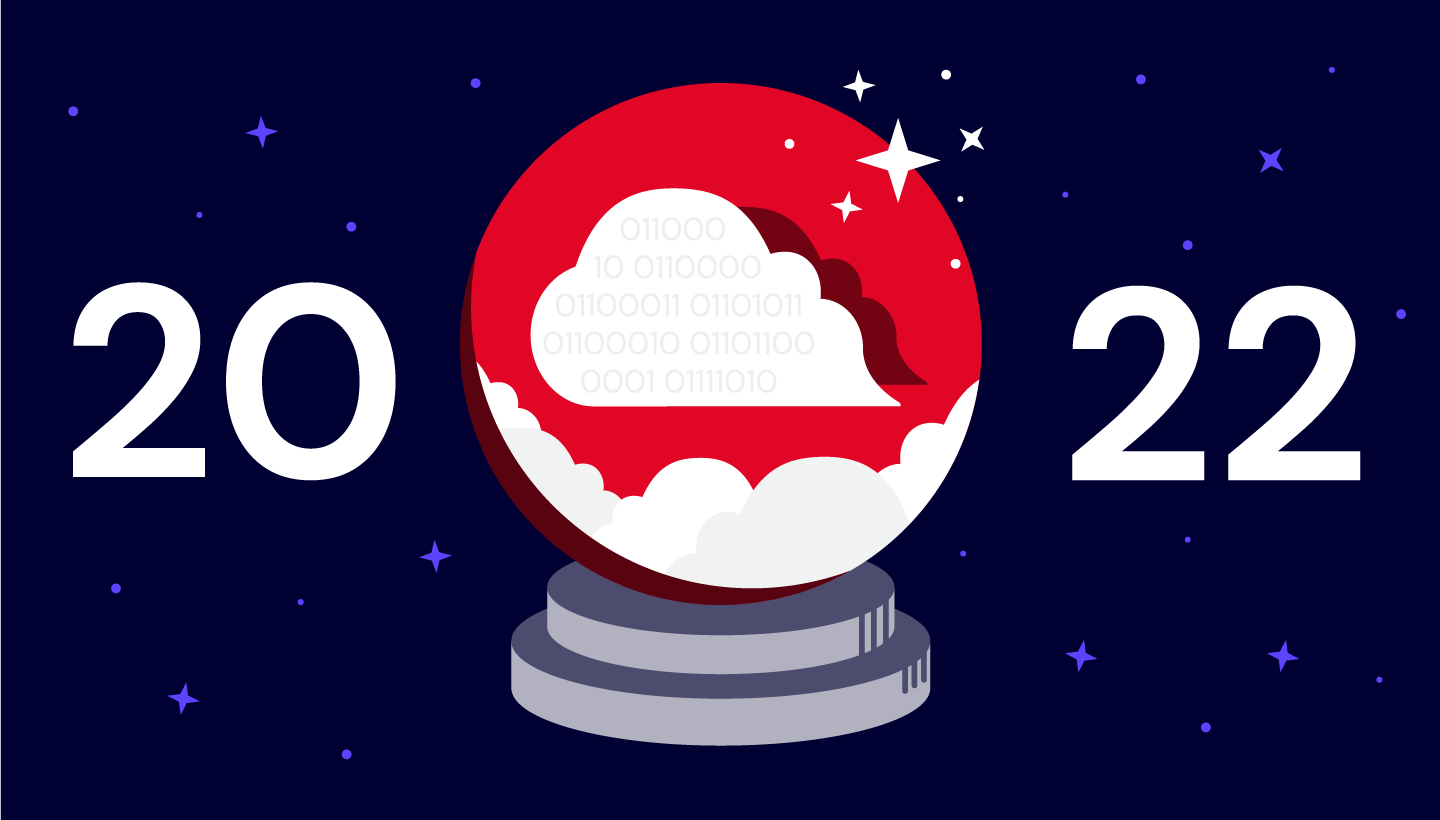 The cloud computing industry had a big year in 2021. But the past year also saw significant challenges—supply chain shortages, continued shifts in work life, continued natural disasters, and disruptive ransomware attacks, not to mention an ongoing global pandemic.
As we close out 2021 and look forward to the new year, we asked our team to weigh in on their predictions for trends we'll see in 2022 in the cloud computing industry. Here are our collective thoughts.
The Trends That 2022 Will Bring
1. Security Will Never Be Easier to Justify
Ransomware threats soared in 2021, making big headlines throughout the year. As we finished the year with the internet-wide Log4j vulnerability becoming exposed, the argument for investing in data security has never been easier to make, and the whole C-suite is likely to be involved. Companies will invest more in stronger protections against ransomware including shoring up backup practices and implementing features like Object Lock to protect data. While companies may have relied upon cyber insurance in the past to cover ransom payments rather than investing in proactive data protection, we think added pressure from government agencies will make this option less of a fallback (while also helping IT leaders to justify more robust measures).
2. Enhanced Security May Not Be a Choice
The U.S. government has already started to signal that it's expecting companies to do more to protect their data from ransomware exposure. In 2022, expect it to tighten the screws all the more with greater enforcement of Treasury, TSA, and other requirements. We predict that at least one U.S. company that makes a big ransomware payment will find itself squarely in the crosshairs of the U.S. government for not doing enough to protect itself and then going too far against the Treasury's Office of Foreign Assets Control in facilitating payment to known bad actors outside the U.S.
3. Relying on One Cloud Provider Will No Longer Cut It
Companies that currently rely on a single diversified cloud provider will increasingly look to independent providers to achieve data redundancy. After recent AWS outages that exposed single points of failure, this has never been clearer. Backing up data that resides in the cloud will become more of a priority. The move to a more diversified cloud deployment will lead to more organizations considering flipping to an independent cloud provider as their primary data store with one of the traditional diversified providers serving as a backup destination. Of course, a multi-cloud deployment won't solve everything and could create more complexity if your primary cloud isn't dialed in before racing to add a second.
4. HAMR/MAMR Drops
Hard disk drive manufacturers have all made announcements about capacity increases for the coming year, getting ever closer to 30TB drives. At the 5th Annual Virtual Wells Fargo TMT Summit Conference, Western Digital CEO David Goeckeler indicated that 30TB hard drives are within reach with its ePMR and OptiNAND technology as well as a 10-platter HDD (up from the existing nine-platter 20TB drive). Goeckeler referred to the development as "That staircase to take you to 30TB and then get you on the HAMR [heat assisted magnetic recording] curve."
Likewise, SDK announced the development of microwave assisted magnetic recording (MAMR) technology this year to support development of a 30TB drive. Seagate, too, continues to pursue development of HAMR technology, announcing development of a second-gen HAMR drive that could reach 30TB. The technology has been on the cusp of commercialization for a number of years—in fact, we wrongly predicted we would start seeing HAMR/MAMR drives in 2019. Let's try again—2022 will be the year that HAMR and/or MAMR drives will hit the mainstream and will end up in our data centers as well. We do think 30TB drives built on any technology are at least a couple of years away, but it's time for HAMR and MAMR to meet the data storage requirements of the future.
5. Supply Chain Traffic Jams Will Continue
Supply chains across all industries are experiencing massive limitations while demand continues to increase. Even when the kinks in the hose get worked out, transportation logistics will still choke supply at points. This is exacerbated by the pandemic, but we think it will be an ongoing issue as more organizations rely on supply for growth and business continuity.
In 2022, companies will accelerate the swing from what had been smart just-in-time supply chain management minimizing inventory to smart just-in-case supply chain management minimizing service and sales disruptions.
6. Microservices Will Kill Egress Fees
Better API-connected solutions will allow companies to avoid vendor lock-in and create flexible microservices-based applications while meeting their cloud-related needs (storage, compute, CDN, etc.). Companies will require lower egress fees to be able to move their data freely without breaking the bank. As independent cloud providers work together to minimize or completely eliminate egress fees, we predict that in 2022, smart companies will demand better from the likes of Amazon, Google, and Microsoft—lower egress, multi-cloud options, and vendor independence. Imagine the incremental innovation when companies need not sweat downloading and distributing their own data!
7. A Push for Interoperability
Unstructured data continues to grow unabated driven by our increasingly connected world. Some estimate it comprises 80% to 90% of the world's data, and today it lives in multiple places—multiple clouds, on-premises data centers, and on the edge. Companies that want to extract the most value out of this data won't stand for cloud providers who put up walls around their ecosystems. Data must easily flow between environments such that where the data lives becomes an afterthought. Savvy businesses will want to leverage providers interchangeably based on the best fit for their workloads, and those with open ecosystems will be favored for their flexibility.
What Do You Think the New Year Will Bring?
With another year upon us, we're wondering… What are your predictions for 2022? Let us know in the comments.
Wishing you a happy and hopeful New Year!