Over the last few months, over 500 customers have been using Backblaze online backup on their Windows 8 laptops and desktops. Their photos, videos, music, documents, spreadsheets, and more were automatically and continuously backed up by Backblaze. And when needed, those intrepid Windows 8 users were able to recover their files and folders from Backblaze. In short, if you're looking for Windows online backup, Backblaze works fine with Windows 8.
Today Microsoft released Windows 8. Depending on what you read and who you talk to, Windows 8 is cool, confusing, great, awful, crystal clear, and clear-as-mud. In any case, Windows 8 is here and when you start your Windows 8 system you'll see a screen that looks something like the one below.
Your start screen will most likely look different, but somewhere on there you'll find Backblaze—assuming of course that you have Backblaze installed. You may have to scroll to the right or down to find us, but eventually you'll come across the Backblaze flame. You can select this tile if you need to access the Backblaze Control Panel.
You can also access the Backblaze Control Panel from your Windows 8 Desktop. To reach the Windows 8 Desktop, you simply click the "Desktop" tile and move to the "Desktop" screen. Again your Desktop will most likely look different, but its layout is similar to your Desktop from Windows 7. As with Windows 7, the Backblaze flame icon will be displayed in the System Tray in the lower right of the window. Right-clicking on the Backblaze flame in the System Tray will display the Backblaze Menu you are familiar with from previous versions of Windows as you can see below. (For this picture we've made the menu larger so you can read it.)
If you select the Backblaze Control Panel menu item, you will see the Backblaze Control Panel as shown below.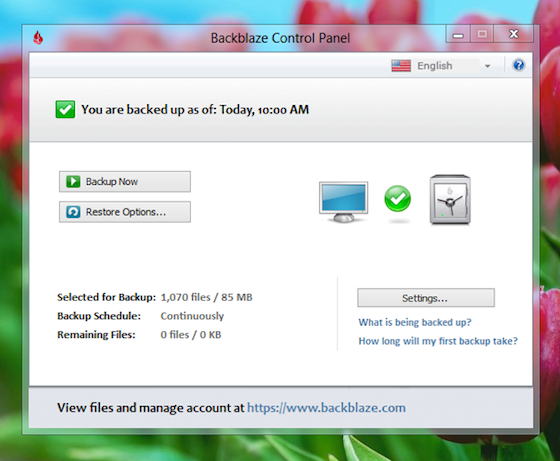 In short, Backblaze supports Windows 8 as well as Windows 7, Vista, and XP. We do not currently support Windows RT.
Windows 8 is different and most people think it will take some time to get used to it. When you do decide to take the Windows 8 plunge, remember that Backblaze will be there diligently backing up your data, like always.